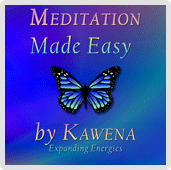 Meditation Made Easy

Price: $25.00
Postage & Handling: FREE (within Australia)

Contents:
Introduction
Mini Meditation
Full Meditation

Meditation can help in all areas of your life. From reducing stress and tension to becoming more creative and aware.
My meditations are designed for both beginners and advanced. They combine eastern and western techniques to bring you an easy, enjoyable and empowering way to reconnect with yourself.
Meditation Made Easy For Children

Price: $25.00
Postage & Handling: FREE (within Australia)

Contents:
Carer's Instructions
Teddy Bears & Butterflies
Teddy Bears & Rainbows

Suitable for 3 yrs upwards in the style of story telling so children can learn to visualise and use their imagination. Also they can become involved with the teddy bears, butterflies and rainbows. The meditations can come to life if they have a teddy to cuddle. They also begin to learn the healing chakra colors.
Disclaimer: Parents are advised to listen first as no responsiblity is taken. It's your choice.

Add To Cart
How To Order
The Art Of Breathing Made Easy

Price: $25.00
Postage & Handling: FREE (within Australia)

Contents:
Introduction (3:34)
Breathing Exercises (9:59)
Peace & Calm Meditation (8:13)
Manifesting & Spiritual Connection Meditation (28:44)

Quality breathing helps supply the body with more oxygen which helps us to achieve a much better quality of life and our health will improve dramatically especially the immune system.
The more oxygen we supply the body the greater our energy
becomes and the more focussed our mind will be.